Happy new year -- Let's take it back to 2007-2008, and completely ignore the housing crash and economic downturn to talk about Microsoft's semi-failed* mobile media device, the Zune.

Mine is the Halo 3 30GB version. I've never played Halo; It was the cheapest one and had a fair amount of storage, so aesthetics be damned. With tactile, round buttons, one within another, it did reasonably simple things like 'host pictures' and 'play music' and even videos.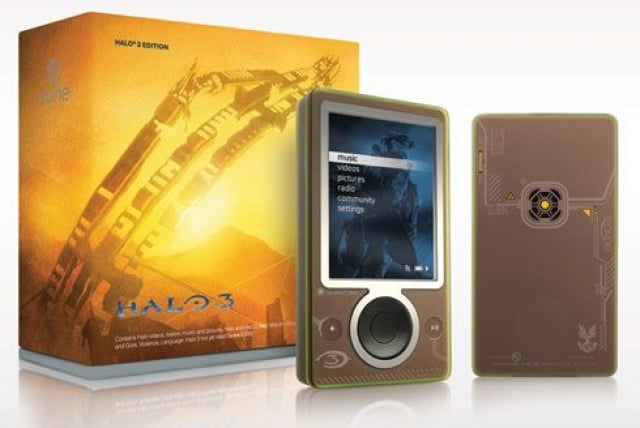 Source: Halopedia.
I didn't realize there were two different versions, I had the Military Special Edition one!

Looking at this picture, I don't remember the Community aspect one bit. I also don't remember the home screen looking like this. I remember The GUI being simple, with the same narrow fonts that zoomed in when selected, but the text was quite a bit larger on my device.Maybe I had changed a setting.
This UI is 17(!) years old, and still looks super modern pic.twitter.com/4wCtd49EEp

— sam 💙💛 (@SamuelBeek) January 17, 2023
Perfect picture of what I remember, thank you for letting me embed it!
It did have a radio receiver, something I don't think iPods bothered with. I know my tiny, off-brand circa 2004 MP3 player had that capability as well.

There was proprietary software to upload things to the Zune, I think it came on a CD with the device. It was a handy hub for updating podcasts as well.

I was a victim of the Leap Year Glitch that affected those of us -- All 80 of us -- with 30GB Gen 1 or 2 Zunes. So, for the entirety of my own birthday, I couldn't use my device.

When the Zune HD came out, I wanted it, but it never came to be. I did see it, as a friend had one (What are the odds, two teenagers with Zunes in the same area? Slim.) If I simply went to eBay and bought a used one, then wish fulfilled! -- but I have no need of it.
Amazing how, over about 12 years, the concept of a standalone MP3 player has mostly become obsolete. You can still buy some, and they look like off-brand machines running some version of Android, sporting a touch screen we only dreamed of using with the iPod Touch 15 years ago -- But major brands (Sans Sandisk, good on them!) seem to have left them behind.
Do people buy standalone MP3s these days? I know you can from Amazon and, not so long ago, Google Play Music (RIP)
Part 2, should I find my Zune, will be an actual re-visiting of the interface.
But I will leave you with an image of my dock;
*It had marginally more success in the UK than the US.